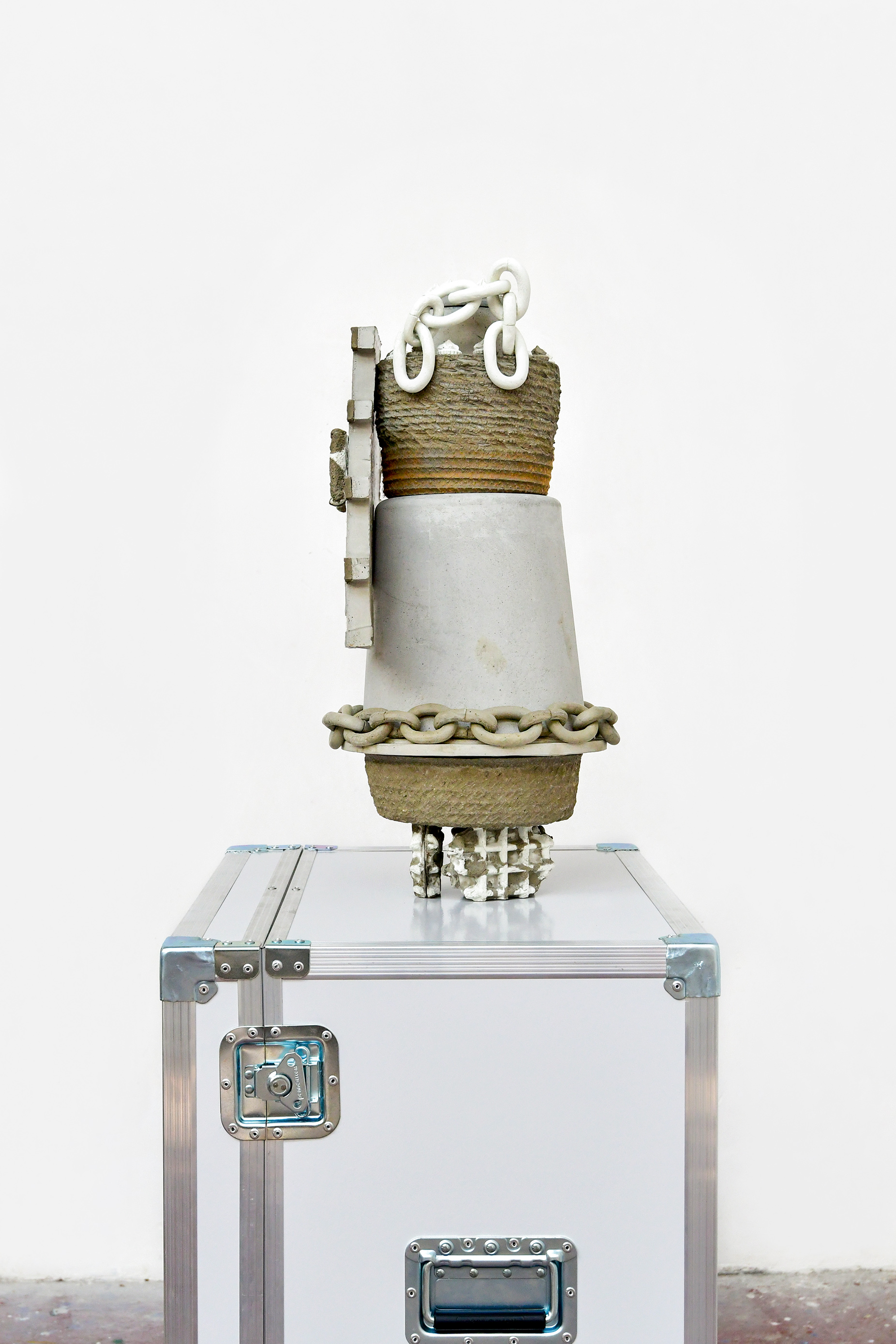 EN

Spaanse Nederlanden
2023
Cement sculpture and custom-made flight-case
Total dimensions 67x47x158cm

"Spaanse Nederlanden" is an artwork inspired by the braseros used by the Aztecs in religious and divinatory ceremonies before Spanish colonization. Instead of displaying elements evoking pre-Columbian cosmogony it presents motifs from Flemish popular culture such as waffles, a stepped gabled facade or ship chains used on sea voyages between Central America and Europe. These objects are inherited from the prosperous era of the Spanish Netherlands between the 16th and early 18th centuries and are the evidence on Flemish ground of a wealth attributable, among other reasons, to the intense colonial exploitation of the resources of New Spain (present-day Mexico) and their redistribution in northern Europe by the Spanish Empire.

"Spaanse Nederlanden" recounts the historical event of a people who thrived on the gigantic appropriation of another's resources; it is displayed on a custom-made flight-case for storage, transport and display. This choice of presentation underlines its status as a merchandise and its inclusion in contemporary global trade, characterized by the persistence of unequal exchanges between the post-industrialized West and its former colonies.

ES

Spaanse Nederlanden
2023
Concreto y flight-case
Dimensiones totales 67x47x158cm

"Spaanse Nederlanden" hace referencia a los braseros utilizados por los aztecas en ceremonias religiosas y adivinatorias antes de la colonización española. En lugar de elementos que evocan la cosmología precolombina, esta obra presenta motivos de la cultura popular flamenca como los wafles, una fachada con frontón escalonado o las cadenas de barco utilizadas en los viajes marítimos entre Centroamérica y Europa. Estos objetos son herencia de la época próspera de los Países Bajos españoles entre los siglos XVI y principios del XVIII y son la prueba en tierra flamenca de una riqueza que se puede atribuir, entre otras causas, a la intensa explotación colonial de los recursos de Nueva España (actual México) y a su redistribución en el norte de Europa por el Imperio español.

"Spaanse Nederlanden" relata el evento histórico de un pueblo que prosperó a partir de la gigantesca apropiación de recursos ajenos; se presenta en un flight-case hecho a medida para su almacenamiento, transporte y exposición. Esta forma de presentación insiste en su condición de mercancía y en su inclusión en el comercio mundial contemporáneo, caracterizado por la persistencia de intercambios asimétricos entre el mundo occidental post-industrializado y sus antiguas colonias.

FR

Spaanse Nederlanden
2023
Ciment et flight-case
Dimensions totales 67x47x158cm

"Spaanse Nederlanden" est une oeuvre inspirée par les braseros utilisés par les Aztèques lors de cérémonies religieuses et divinatoires avant la colonisation espagnole. Elle en cite les formes et l'usage mais, au lieu d'éléments évoquant la cosmogonie pré-colombienne, elle présente des motifs issus de la culture populaire flamande tels que des gaufres, une façade à pignons en escalier ou des chaînes de bateau utilisées lors des voyages maritimes entre l'Amérique Centrale et l'Europe. Ces objets hérités de la période faste des Pays-Bas Espagnols entre le XVIe et le début du XVIIIe siècle témoignent sur le sol flamand d'une prospérité attribuable entre autres à l'intense exploitation coloniale des richesses de la Nouvelle Espagne (Mexique actuel) et à leur redistribution en Europe du Nord par l'Empire Espagnol.

"Spaanse Nederlanden" relate le fait historique d'un peuple ayant prospéré suite au gigantesque accaparement des ressources d'un autre; elle est présentée sur une flight-case réalisée sur mesure pour son entreposage, son transport et son exposition. Ce choix de présentation souligne sa qualité de marchandise et son inclusion dans le commerce mondial contemporain, caractérisé par la persistance d'échanges inégaux entre l'Occident post-industrialisé ses anciennes colonies.