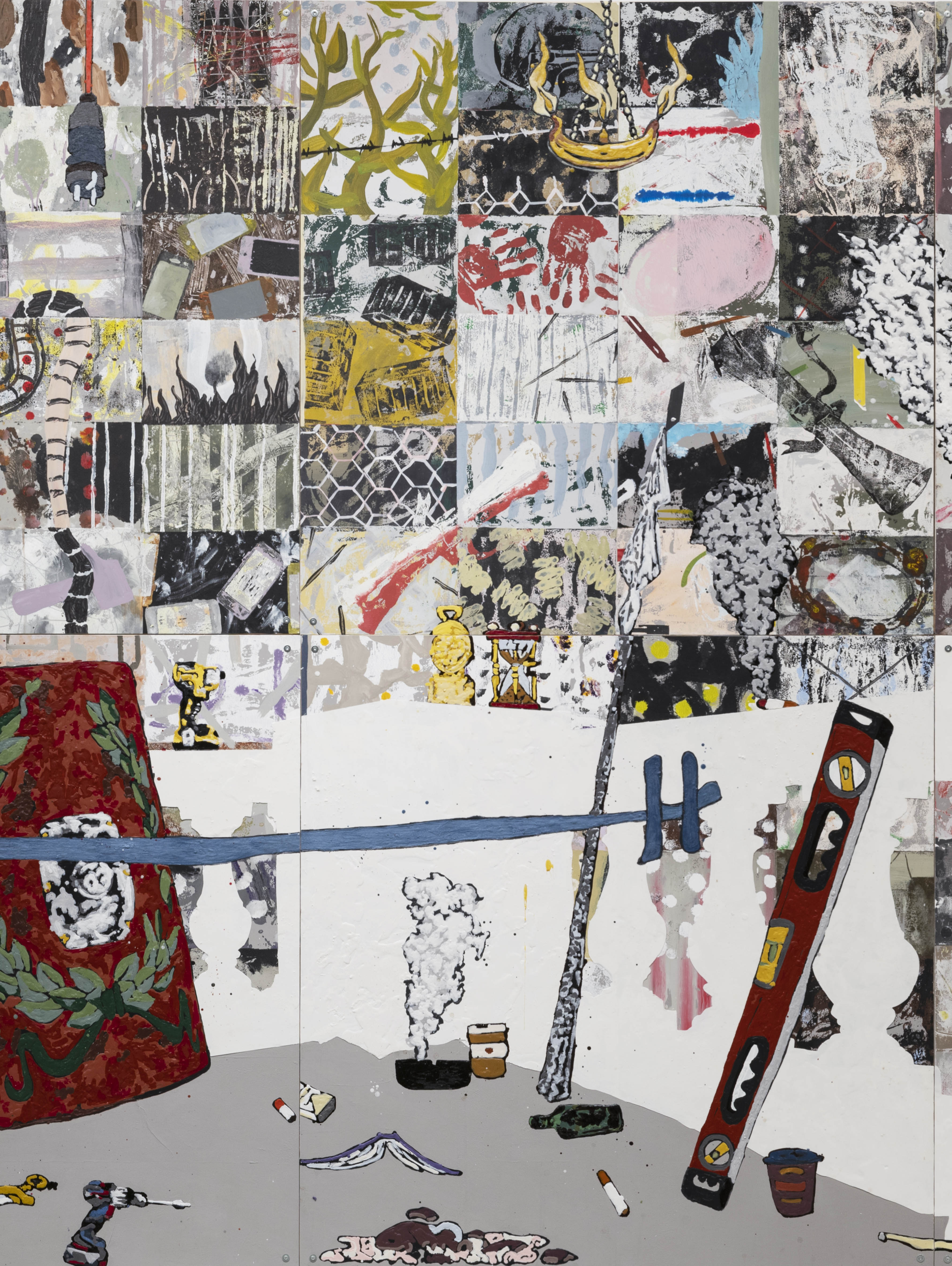 EN
Imperium
2021
Acrylic, paraffin wax and lacquer on paper mounted on 24 120x120cm wood panels mounted with screws and washers onto the back wall
Total dimensions: 1440x240cm
Imperium is a fourteen-meter-long painting that represents a quite undefined, neither interior or exterior space which could have been all together a construction site, the building-up of an exhibition or a theatrical decor hastily deserted by its protagonists at the end of the representation due to a sudden disaster or because of general hangover.
In the image, various objects are lying around such as crowd barriers, empty beer cans, cigarettes, a jackhammer, screws, etc. It is the daily decorum of exhibition builders, an anonymous but indispensable army of workers that usually consists of artists who work on the side in order to survive.
The objects depicted are combined with elements from another register and epoch, such as Roman helmets, shields and amphorae. Through this combination, the depiction of an exhibition in demolition takes on a metaforical dimension: the everyday scene almost becomes a historical tableau, with references to the downfall of the Roman Empire and the current feeling of defeatism and malaise in the West.
Influenced by Spinozian concept of «Imperium» pursued in an eponymous essay by philosopher and researcher Frédéric Lordon, the aim of this pictural project was to materialise in visible form hidden collective forces of passion laying out a specific societal situation, i.e an art institution under constant renovation, located in a city area daily crossed by precarious, anonymous workers.
ES
Imperium
2021
Acrílico, parafina y laca sobre papel montado en 24 paneles de madera de 120x120cm montados con tornillos y arandelas en la pared trasera
Dimensiones totales: 1440x240cm
Imperium es una pintura de catorce metros de largo que representa un espacio bastante indefinido, ni interior ni exterior, que podría haber sido una obra en construcción, el montaje de una exposición o un decorado teatral abandonado precipitadamente por sus protagonistas al final de la representación, debido a un desastre súbito o porque todos estan crudos.
En la imagen, varios objetos están tirados por todas partes: barreras, latas de cerveza vacías, cigarrillos, un taladro, tornillos, etc. Es el decoro cotidiano de los montadores de exposiciones, una armada anónima pero indispensable de obreros que suele estar formada por artistas que trabajan aparte para sobrevivir.
Los objetos representados se combinan con elementos de otro registro y época como cascos romanos, escudos y ánforas. Mediante esta combinación, la representación de una exposición en demolición adquiere una dimensión metafórica: la escena cotidiana se convierte casi en un retablo histórico, con referencias a la caída del Imperio Romano y al actual sentimiento de derrotismo y malestar en Occidente.
Influido por el concepto spinoziano de "Imperium" perseguido en un ensayo homónimo del filósofo e investigador Frédéric Lordon, el objetivo de este proyecto pictórico era materializar de forma visible fuerzas ocultas, pasionales y colectivas que configuran una situación social específica, es decir, una institución artística en constante renovación ubicada en una zona urbana transitada a diario por trabajadores precarios y anónimos.
FR
Imperium
2021
Acrylique, paraffine et laque sur papier marouflé sur 24 panneaux de bois de 120x120cm fixés avec des vis et des rondelles sur le mur du fond
Dimensions totales : 1440x240cm
Imperium est une peinture de quatorze mètres de long qui représente un espace indéfini, ni intérieur ni extérieur, pouvant être tout à la fois un chantier de construction, le montage d'une exposition ou un décor de théatre hâtivement déserté par ses protagonistes à la fin de la représentation à cause d'un désastre soudain, ou simplement à cause de la gueule de bois générale.
Divers objets gisent au sol tels que des barrières de sécurité, des canettes de bière vides, une visseuse, des mégots de cigarettes, etc. Il s'agit du décorum quotidien des monteurs d'expositions, une armée de travailleurs anonymes mais indispensables, généralement composée d'artistes qui travaillent sur le côté pour survivre.
Ces objets sont associés à des éléments d'un autre registre et d'une autre époque comme des casques, des boucliers ou des amphores romaines. Cette combinaison confère à la représentation d'une exposition en cours de démontage une dimension métaphorique : la scène quotidienne devient presque un tableau historique, avec des références au déclin de l'Empire romain et au sentiment de défaitisme et de malaise qui prévaut aujourd'hui en Occident.
Influencé par le concept spinozien d'"Imperium" développé dans un essai éponyme du philosophe et chercheur Frédéric Lordon, l'objectif de ce projet pictural était de matérialiser sous une forme visible les forces passionnelles collectives latentes qui sous-tendent une situation sociétale spécifique; dans ce cas une institution artistique en constante rénovation, située dans un quartier de la ville quotidiennement traversé par des travailleurs précaires et anonymes.